"Finally Turn Your Blogs & Sales Letters Into A Viral Machine In 2 Minutes or Less With This Viral Share Strip

That All The BIG DOGS Are Using

...
This Non-Intrusive,Flexible Wordpress Plugin Will Allow All Pages & Posts Of Your Site To Be Shared!"
"And The Best Part Is, This Plugin Is So Simple To Install & Configure That You Should Be Up And Running In No Time On A Fresh Wordpress
Install!"
This plugin displays a bar that will capture your visitors attention to click on a link of your choice. it can lead to anything, a sales page or a squeeze page.
Down below the download link are the social network; Facebook Like, the new Google Share and tweet button. These button makes your website and download link viral.
Then Keep Reading...
When it comes to sharing your websites to only the select few social media sites that you want...
When it comes to sharing your websites to only the select few social media sites that you want...
You Need A Simple & Flexible Solution That You Can Pop Up Quickly And Start Seeing Viral Results!
Even the big "Guru's" are taking notice to simple solutions similar to this on their product launch pages! There is a reason for it... it WORKS!
Now Also Think About Only Allowing The Viral Sources That You Know Work To Visitors To Share Your Content On!
But There Is A Problem...
There are just TOO MANY share button plugins out there, and most just do not connect the dots from a marketing stand point.
Many will include tons of bookmarking sites.. which is great for blogs and more content heavy sites, but what about product launch pages?
Those options just do nothing for these types of Wordpress sites!
I don't know about you but plugins are the MOST time consuming part of my Wordpress site setups!
Theme Plugin Install & Setup Takes Longer Than Any Aspect Of My Wordpress Site Creation & Install...Until NOW!
It's Time To Save More Time...
Introducing The WP Viral Bribester Plugin!
So what Viral Sharing Sites Can You Include In The Viral Multiplier?
* Facebook * Twitter * Google +1
So Here's The Deal...
We Could Easily Charge A Premium Of $27 or More For This Plugin...But We Want To Really Give You Warriors Some Discount So
We Are Going To Basically Give This Developer License Away At Just
DEVELOPER LICENSE
[yes] use on your own sites. [yes] use on unlimited client sites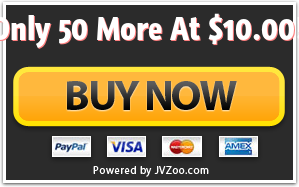 PERSONAL LICENSE