The seller of this product has created this contest as an incentive to affiliates that promote. The bonus prizes listed on this page are to be paid by the seller. JVZoo.com only provides the statistical data of affiliate sales and is not involved in the redemption process.
Funnel Affiliate Contest
Contest Details:
$9000+ in Cash Prizes 
Leaderboard positions based on total sales of the entire funnel so make sure you're promoting the whole package!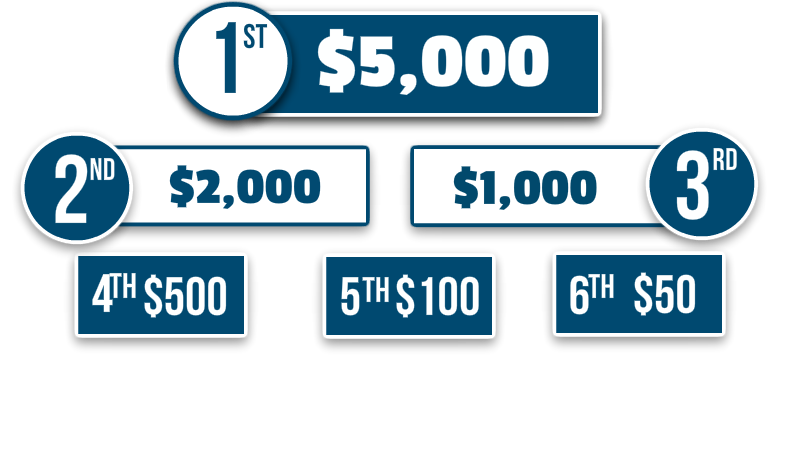 Keep an eye out for our individual pop up bonuses through out the launch
Qualify for prize commissions should be equal or more.  If it is less and they are on the spot, prize money will be equal to their commissions to be given.  For example if the First Place prize money is $5000 and the Top Affiliate has earned $3000 commissions .$3000 will be paid as first place.
Standings on Leaderboard position and overall contest ranking is determined by total sales generated from the entire sales funnel during the contest period from 4pm EST Aug 16 through 11:59:59pm EST Aug 22, 2019 unless otherwise specified. You are encouraged to inform your buyers about the upgrades and provide bonuses for each level in the funnel.
Due to leaderboard positions being based on total sales generated, no commission bumps or early birds will be given out.
Affiliates may form a team to qualify for prizes, maximum of 2 affiliates per team, must be arranged with launch manager no later than end of day August 15 2019. No exceptions!
As an Affiliate you agree to the following: 
The new FTC Guidelines for affiliate marketing came into effect on December 1st 2009. As an affiliate or jv partner for 'Everlesson' on Click-Bank.com, you've read and fully agree to the terms listed on the Official FTC Website - http://www.ftc.gov/bcp/guides.html to ensure that you're promotions are compliant with the new guidelines. 
 
This bonus offer has been created by the applicable Vendor and not by JvZoo. Accordingly, JvZoo is not responsible for any information contained in the offer, including, but not limited to, any product information, promotions, incentives, expected returns or other information contained herein. in addition, JvZoo is not responsible for any links to third party websites in conjunction with this offer. Such links do not imply any endorsement by JvZoo of such websites or the content, products or services available from such websites. 
 
By clicking on or accessing a third party listed, you acknowledge sole responsibility for and assume all risk arising from your use of any such websites.
Affiliate Program Terms: 
 
You must adhere to FTC guidelines when promoting our products and services. 
 
In addition, you must follow these guidelines if approved for this affiliate program. Doing otherwise may result in you being terminated from the affiliate program and forfeiting any outstanding commissions. 
 
1. Do NOT send Spam of any kind. Traffic Monsoon, Ad Fly, any of these types of "cheap traffic sources" are exactly that. CHEAP. You will be banned from this and all future offers if you utilize any of these methods. 
 
2. Do NOT offer cash rebates to people who buy through your affiliate link. 
 
3. Do NOT use negative words such as 'scam' in any promotional campaign. If we find your advertisement, we will remove your affiliate account from our system. 
 
4. Do NOT misrepresent the product/offer. You must follow any endorsement rules and regulations that are applicable both in the country where you are based and in the countries from which you are sending website traffic or advertising in. 
 
5. Applying to promote just to do a "self-buy" is strictly against our rules. If we see this, we reserve the right to cancel your account, your affiliate account, and cancel the commissions earned. 
 
6. All prizes will be rewarded in cash post the launch date. Generally 2-3 days post, to allow us to do manual count and recap. 
 
7. Winners must submit a W-9 or W-8 in order to get paid. 
 
8. If we don't know you, you will not be approved inside JvZoo. If you feel this is an error, contact
[email protected]
In no way is Safari, Google, Chrome, Apple, Mozilla, or Android affiliated with Cookie Cutter Project. Once you leave these websites or their partner networks you are no longer part of their terms of service. We keep a very high code of conduct and make sure everything is presented in the best and most. 
 
This website in no way is affiliates with FaceBook or any FaceBook entities. Once you leave FaceBook the responsibility no longer is on their site. We make every attempt to clearly state and show all proof. We do not sell your email or any information. Can Spam compliant. If you have any questions please feel free to use the contact us link above this text.
Leaderboard
| Position | Name |
| --- | --- |
| #1 | Steve Rosenbaum |
| #2 | Karthik Ramani |
| #3 | Brett Rutecky |
| #4 | Todd Gross |
| #5 | ADEEL CHOWDHRY |
| #6 | Walt Bayliss |
| #7 | Harshal Jadhav |
| #8 | Mike From Maine |
| #9 | Paul Ponna & Sid Diwar |
| #10 | David Williams |